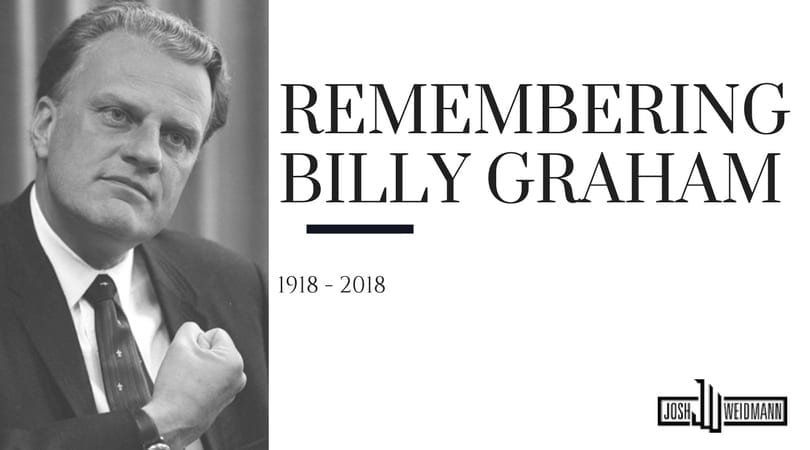 Someday you will read or hear that Billy Graham is dead. Don't you believe a word of it. I shall be more alive than I am now. I will just have changed my address. I will have gone into the presence of God.
~Billy Graham
I can remember sitting in the far back bleachers of the St. Louis arena watching Billy Graham share the Gospel message with the 40,000 person audience. I listened, dreamed, and prayed as I watched this elderly gentleman share the gospel message. My thoughts were flooded with admiration of how a man, that really had no great preaching talent, could be used by God in such a great way. It was earlier that night that I was able to have a private meeting with Billy Graham (see photo below!). As I had entered the room, I recall thinking how ordinary Dr. Graham was yet how he had lived such an extraordinary calling.
The ordinary being used in extraordinary ways truly is the best way to explain Billy Graham. I laugh when I read the stories of how people would creep up outside the widows of the Graham estate just to catch a glimpse of how the Grahams lived, or others who would travel many miles just to see Graham up close. Built up into some kind of Christian celebrity, Graham soon became an evangelical idol. Often referred to as the "protestant pope," it became clear that people seemed to forget that Graham was simply a man with a magnificent message; it was not Dr. Graham that was so special but it was the way that God chose to use him that was quite significant.
I only had the opportunity to meet Dr. Graham once and my other times around him were in other more formal ministry settings where I was unable to personally interact with him. However, I admired Dr. Graham with the greatest of respect. There is no man that inspired me in my calling more than Billy Graham.
The following life account was one I wrote for a class paper when I was a young evangelist longing to learn from the lived-out example of a great evangelist that had gone before me. It was the goal of my study to take a look at specific events that helped to shape Graham's character and theology and to follow a progressive timeline of his life to see the way that Billy Graham and his ministry grew and developed.
It is evident as I think back on his life today, on the day of his passing, that God was the author of Graham's faith and life story from his first cry to his final breath.
Congratulations on your homecoming Reverend Billy Graham.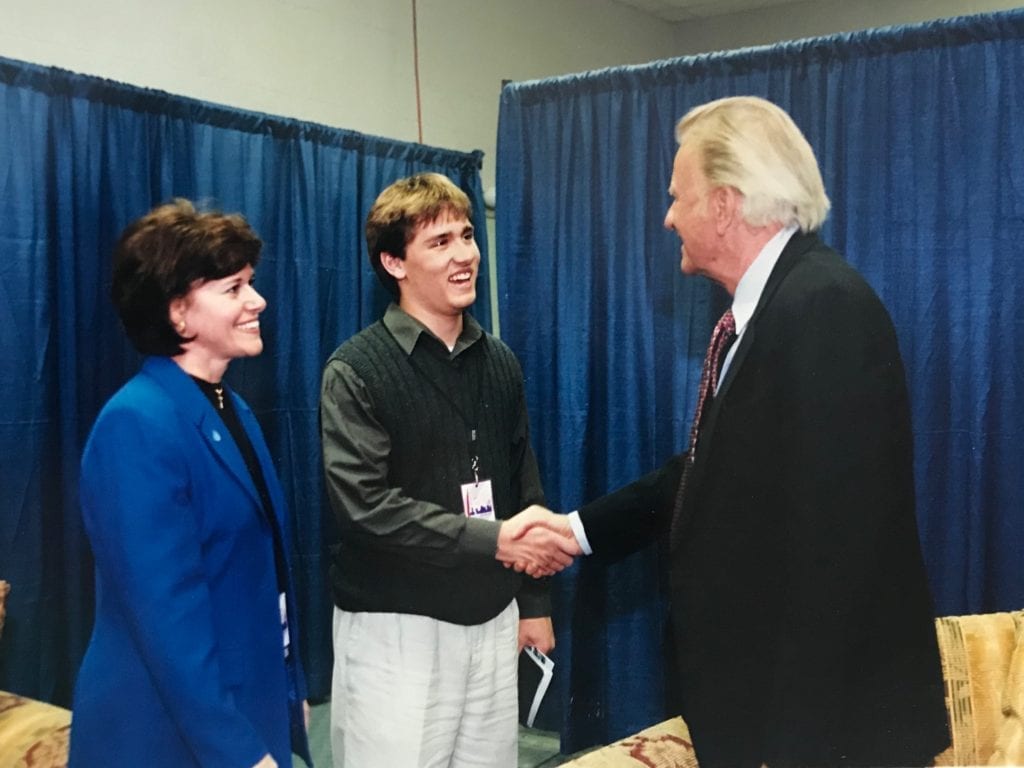 Readers: Enjoy the reprint below of my paper.  Sources are sited for those wishing to read further!
Roots in Charlotte
On a little country way called Park Road outside Charlotte, North Carolina our story begins. In the downstairs bedroom of a farm house, four days before the end of the First World War, Billy Graham was born on November 7th, 1918. Morrow Coffey and William Franklin Graham were well- to-do dairy farmers with a southern history as strong as their business. Both of Billy Graham's grandfathers, Crook Graham and Ben Coffey had fought the confederacy in the Civil War. Cook Graham carried around a bullet in his leg fired at him from a Yankee gun, while Coffey had only one eye and one leg as a result of the Pickett's charge at Gettysburg. 1
With Mr. Graham's deep roots in the South, and being the first born son of a successful dairy farmer, it could have well been assumed that Graham had a path of life set from him. How easily it could have aspired for Billy to take over the farm and stay put in the South long after his father passed away; this was not Billy's father's hope and evidently not God's plan either. William Franklin Graham often referred to his son as Billy Frank. He had great dreams for Billy Frank, specifically that he would leave the farm and become a pastor or preacher. Billy's father was always intentional about taking his family to church and reading the Bible to his children. It is recorded that from the very first days of William and Morrow's marriage that they made it a point to spend time in God's Word together. This discipline continued for all of Billy's growing up years.
The church that Billy and his three siblings attended every Sunday was a small country Presbyterian Church. Like an oiled machine, the Graham farm had a weekly schedule and church was always a part of it. Billy said that their pastor, W. B. Lindsay, reminded him of a mortician. He thought that he was a sweet man, but boring and a terrible preacher. Still, the Graham parents thought the man was a wonderful pastor, so Billy Frank followed their lead. When Pastor Lindsay's sermons would grow long, Billy could always count on Lindsay's wife to shake her watch at her husband when it was time to quite preaching. Billy's dull view of Lindsay and the church changed drastically after his experience at an evangelistic meeting in Charlotte.
Where God Found Billy Graham
In the South during the 30's it was not uncommon for revival meetings to be held in effort of seeing many saved and Christians finding a new deepened faith. In the fall months of 1934 an evangelist form Louisville, Kentucky, Dr. Ham, came to hold a three month long revival in downtown Charlotte. Ham was a balding man, trimmed white mustache, and glasses who in Graham's eyes was merely a glorified Sunday school teacher. Ham had a great knowledge of the Bible and preached morning and night for more than eleven weeks in Charlotte. The same group that had organized for Billy Sunday to come 10 years earlier had arranged for Dr. Ham to preach in the 5,000 seat tabernacle from the two month campaign.
Mordecai Ham had been a pastor of a Baptist church in Oklahoma. He had been a student of law, and had spent time as a traveling salesmen before he became an ordained minister. His traveling to Charlotte was followed with a big dark cloud of controversy above him. He was appreciated and endorsed by the Baptist denomination but the Methodists and the Presbyterians did not like him or his preaching style. Graham had heard about this controversy and he had also heard that Ham was just in it for the publicity and the money. Due to all this and Billy's lack of interest in spiritual things as it was, Billy resolved that he would not go to hear Ham, ever.
At one point during the meetings, even Graham's skeptical parents ended up going to hear Ham at the revival meetings. Morrow had been going through a time of spiritually searching for about two years prior to the Ham meetings. She had been reading the book of Revelation in her own personal time and was struggling to find assurance of salvation. Apparently Mr. Graham, Billy's Father, was also experiencing a time of uncertainty in salvation and it was not until his wife had encouraged him to go that he finally agreed. Immediately following the Graham parent's visit to the revival, they had a renewed vigor for God. "My experience," Billy's Dad stated, "was that Dr. Ham's meetings opened my eyes to the truth." All this praise of Ham began to spark and interest in Billy Frank, but he still insisted that he would not go.
For weeks Billy's parents continued to encourage him to go to the meetings, but he refused. He had just turned sixteen and the love of his life was baseball. Billy wanted nothing to do with an evangelist. Then, about mid way through the campaign, Dr. Ham made a comment about the immoral conduct at Central High School. Billy had read these claims in the Charlotte News and heard the other students his age begin to grow angry about what was said. It was the bold comments from Ham about the school that increased Billy's curiosity about the evangelist. Some of his friends had told him that the students of Central High were going to go to the crusade that night to demonstrate right in front of the stage. With all this intrigue now filling Billy's head, it only took one more comment from a friend that convinced him that he had to go, "Why don't you come down and hear the fighting preacher?" Billy questioned, "Is he a fighter?" He liked the sound of that, and stated, "I like fighters" and with that decided to attend.
That fall night Billy was among the largest crowd he had ever seen. He sat in the back of the five-thousand-person auditorium with some friends just waiting for the show. In the end, the demonstrating never happened and Billy found something far greater that caught his attention. He was spellbound by that old preacher that he was so skeptical toward. His words had Billy in a trance, and although he cannot even remember what Dr. Ham spoke on that night, the preaching moved him more than any sermon he had ever heard. Billy does recall that as "Dr. Ham started his sermon by opening his Bible and talked straight from the text, I was hearing another voice, and as was often said of Dwight L. Moody when he preached: the voice of the Holy Spirit."
That night Billy laid awake in his bed mulling over all that was said at the meeting. He had never cared so much for spiritual things, but that evening God had truly begun to do a work in Billy's heart. Dr. Ham was quoted saying later in Billy's life that "Before the meetings Billy's hero was Babe Ruth; our meeting changed his hero from Babe Ruth to Jesus Christ."  2  From that first night of Billy's visit to Mordecai Ham's meeting, until the last, he attended the meetings every night. Whenever Ham would preach Billy thought that he was speaking right at him. Growing uncomfortable with being in front of Dr. Ham's boney finger, he decided to join the choir so that he would be behind Dr. Ham when he preached. However, moving to the choir loft did not keep Billy from the conviction that he was feeling.
It was a few nights after his sixteenth birthday that Billy made the decision to confront his conviction and put his faith in Christ. So when Dr. Ham gave the call to come to the front to accept Christ, Billy slipped down from the choir loft and in front of the pulpit. Within moments, Billy's Father came up behind him hugging him and telling him how proud he way that he had taken a stand that night. Along with Billy in the front were his new found friends Grady Wilson and his brother T.W. Wilson. These other two young men had tried to ignore the call to Christ by joining the choir with Billy but they too soon knew that they had to answer the call. The three teenagers had little idea of what God would do with their lives now that they had committed themselves to Him.
Finding Himself
Now that God had found Billy, and salvation had come to his soul, it was evident that Billy was a new man. He had a growing interest in church and even began to take notes during Pastor Lindsay's preaching. He would spend time reading the Bible before he would go out to milk the cows at three in the morning and finish his day of with quite times of prayer. His mother, father and even aunts and uncles could see the difference in Billy Frank's life. Whenever there was a revival meeting in town Billy would be there for most of the campaign. William Franklin was doing so well in the dairy business, they were able to own a nice house with indoor plumbing. Because they were one of the more well-off Christian families, it was not rare for the Graham's to invite the traveling evangelist to stay at their home.
It was a few of those traveling evangelists that began to give Billy a peak into what God was calling him to. Two evangelists that Billy was able to spend time with had attended the Bob Jones College and they encouraged Billy to do the same. After a summer of selling Fuller brushes with his two friends Grady and T.W., these three decided that Bob Jones was the college for them. They applied, were accepted, and were off to start their studies in Bible and theology. Billy knew that going to get biblical training felt right, but he was still seeking to find what it was that he was going to do with his life. They thought of preaching was still far from his mind. He had traveled with one of the visiting evangelists to a jail to preach, and there he had the opportunity to share his testimony. That knee-knocking experience seemed to confirm to him that there was no way he would do that for the rest of his life. Grady had felt sure he was called to preach, so Billy followed him in hopes that God would make it as clear to him as He did to Grady of what he was to do with is life.
In the end, the experience for Billy at Bob Jones was not a very good one. Dr. Jones, whom the school was named after, was the primary teacher at the institute. He would teach theology, but his theology and nothing else. It was also the disciplined way that Dr. Jones ran the school that was not to Billy's liking. Dates had to be scheduled with the dean. You could not talk to girls except for one specific hour out of the day. And on any other issue, Dr. Jones had the final authority. After a while all this wore on Billy and he scheduled a private meeting with Dr. Jones. He told him of his concerns and that he was thinking of leaving the school. Needless to say, this was not taken very well by Bob Jones. He told Billy that he was nothing but a failure and if he left the school, the rest of his life he would just continue to mess up. This was enough to convince Graham that it was time for him to leave and pursue education somewhere else. Even years later, after Billy had preached the Gospel hundreds to millions, Jones and his son released statement of animosity toward Graham say that, "Graham had done more to hurt the kingdom of God than anyone in history."
It was while on a family vacation in Florida that Billy was introduced to the Florida Bible Institute. Billy had applied for Florida Bible prior to his departure from Bob Jones. Upon his acceptance, Billy immediately packed his bags and headed for the warmer climate to start a bachelor's degree in theology. It was at this school that Billy really began to discover who he was as a man of God, and the way that God was going to use him in the future.
Florida Bible Institute was not as strict as Bob Jones, and they were committed to teaching the Bible but also would talk about other views of theology. This school seemed to fit Billy perfectly allowing him to search out what he believed and why. It was also here that Billy met a man that served as a mentor of sort to him during his time at FBI. The dean of the school, Reverend John Minder taught pastoral theology, hermeneutics, and other counseling classes at the school in addition to being a pastor. Billy greatly admired this man and wanted to learn everything about life and ministry that he could from him. Minder never dictated to Billy how he was to think, but rather he challenged him to consider the perfect trust worthiness of God and rest in that; this was an appealing change for Billy coming from the tight thinking in Tennessee at Bob Jones.
Dr. Minder was a bachelor and therefore was able to travel and spend time with students more easily than some of the other professors. In 1937 around Easter time, a pastor friend of Minder invited him to come and speak at a conference at Lake Swan in Northern Florida. Billy was invited go to Go with Minder on this 150 mile trip, and he agreed. The time in the car surly served as great time for the two to talk on theological matters and for Billy to gain some of Minder's much welcomed wisdom into his life.
Just as Billy was fond of this man, there must have been something about Billy that intrigued this Dean. While they were in Lake Swan Florida, Mr. Underwood, the gentleman that they were visiting, had invited Dean Minder to preach at a local church. When Mr. Underwood questioned Minder if he would preach the following night he replied, "No, Billy is going to preach." Stunned, Billy replied fearfully that he had never preached before an audience in his life. The two men chuckled and said, "We'll pray for you, and God will help you." With hesitant Billy agreed, "Alright then," and it was set.
The night before that Sunday Billy stayed up very late to work on the four sermons that he had memorized. He had assumed that each of the sermons that he had would take at least 25 minutes each. Feeling more than confident with his preparation, yet nervous to speak to a live audience, he walked in to that small place cold room heated by a potbelly stove. The congregation was about 40 people, all farmers and ranchers from the area. Billy went to the front to preached one of his sermons, and as he began he soon found himself at the end of the first sermon much sooner than he had expected, so he proceeded into the second sermon. Then he knew that he still had more time so he progressed into the third, and even the fourth. By the time that Billy had completed all four sermons that he had memorized he went and sat down. His entire speaking time only consisted of about eight minutes.
Even thought that night was hard for Billy, he walked away spiritually encouraged and challenged. Returning to campus, Billy was determined to work on his preaching skills. It was not rare for Billy to take a small boat and paddle across the Hillsborough to practice preaching on a small island while no one was around. Once a fisherman paddled by to find this skinny young man preaching to no one but the alligators and bugs. Often Billy's friends would line against the shore across from when Billy was practicing and when he would return they would tease him, asking, "How many converts did you get tonight Billy?" In spite of this cantering and Billy seeing other great preachers around him like Woodrow Flynn, Billy's roommate, he was still determined to learn how to communicate the Truth of Christ.
It was not long before Billy was feeling confident enough to begin to preach to real audiences once again. Within the first 18 months of Billy being at Florida Bible, Billy had grown immensely. He had gained confidence enough to go to Tampa on Sundays and preach up to five or six times a day on the street corners. Another opportunity that arose was the near by trailer parks where the elderly people would come and live during the winter months. Billy would preach there to some times as many as 2,000 people. They would always take up a collection for him and give him five dollars in appreciation for his time. Many people began to confess a decision for Christ due to Billy's preaching and the work of the Holy Spirit in his life. Even though the ministry was so fruitful he began to question whether this was what he was to do for the rest of his life.
It was one cool evening as Billy took a walk around the golf course next to his dormitory that he began to ask the Lord what He wanted of him. There on the golf course he kneeled down on one of the greens and cried, "Oh Lord, if you want me to go into the ministry, I will." There in the silence there was no big sign, no noise or audible voice, but in the stillness Billy was filled with the assurance that, yes, the Lord was calling him into the ministry. Although Billy's ministry had truthfully started long before that moment, it was there that Billy had settled with himself and God that to go and tell people the truth of the Gospel the rest of his life.
There, in 1938, the commitment had been made and the ministry was building. Mr. Underwood, the pastor from northern Florida had called and invited Billy to come back, even in spite of his eight minute sermon the time before. Underwood had planned to have Billy preach every night for a week and gave him the opportunity to preach on the radio in the mornings. By then Billy was ready with about 15 full-length sermons prepared. He agreed to Mr. Underwood's invitation and did the meetings and radio speaking. That week Billy was able to see over 80 people make a decision for Christ. This was only the beginning of a ministry of working with the church to preach the gospel to whoever would listen.
Pastor Underwood had given Billy a lot more than just his first chance to preach a revival, and speak on the radio. He also was the one that baptized Billy by emersion. Although Billy had been sprinkled by the Presbyterian Church as a child, he felt that it was necessary to display his new life in Christ through a public baptism by emersion. It was also Cecil Underwood that gathered a group of pastors together to interview Billy for ordination in the Baptist church. Underwood, and Billy's roommate Woodrow, advised him that if he wanted to continue to preach with the Baptists, and avoid controversy, it would be best for him to become ordained. So after being questioned and prayed for, Billy was ordained into the Southern Baptist denomination. The great significance of this was simply that now Billy was making clear that he really was ready to give his life to the public preaching of the truth.
The Road to Wheaton, the Pastorate, and Ruth
In 1940 Billy had now found his calling and completed his degree at Florida Bible Institute. Now that he knew what it was that he wanted to do the rest of his life he thought the best thing was for him to further his education. He wanted to go to an accredited school, and already had hopes that Wheaton College, a school just outside Chicago, may be a perfect fit for him. Through the help of two men that were closely tied to Wheaton, Billy applied and was accepted.
Upon this country boy's arrival to the suburbs of a big city, Billy found himself out of place. He missed the friends, the warm south, and the preaching ministry that had developed for him there. However, it was not long before Billy was invited to speak in Illinois. A popular church in Wheaton referred to as the "Tab" had invited Graham to speak. After having him share with the three hundred person congregation they gave him a fifteen dollar honorarium, and even better than that, they asked him to come again.
Graham continued to visit and preach at the Tab, and in the summer of 1941 they asked him to return in the fall semester and be the pastor of that Wheaton church. He gladly accepted. In the summer of '41, before he started the Pastorate Billy was invited to return to his home town of Charlotte and preach revival services. The week there was very rewarding as the local church welcomed his ministry and many people made a decision for Christ.
That fall, being a pastor and the studies at Wheaton took a toll on Graham. Often his studies would be sacrificed for more urgent things at the church. He would preach twice a week and lead a prayer meeting every Wednesday. Billy's passion for ministry was often over shadowing the homework and assignments. An example of Billy's zeal was when he heard of the bombing of Pearl Harbor and the war against Japan, he immediately called the military to try and serve as a position in the chaplain corps. They told him that he would need to finish his degree and then take some seminary courses before he would be able to serve in such a position. When Billy heard this, his studies took on a whole new seriousness.
Not only was Wheaton a great place of growth for Billy spiritually, in ministry, and intellectually, but it was also the place that he met his life long partner in ministry. Ruth Bell was the daughter of a missionary surgeon in China. She was a Godly woman who said that she dedicated Saturday nights to prayer and Bible reading to prepare for Sunday rather than dating. It was everything about Ruth that was attractive to Billy. Her intelligence, wit, practicality, and wholehearted love for Jesus convinced Billy that she would be the perfect woman to stand by his side. After Ruth had gone to hear Billy preach one night she prayed, "God, I if can spend the rest of my life serving You with Bill, I will consider it the greatest privilege imaginable."
One of the greatest struggles in the courting process for Ruth and Billy was their view for the future. Ruth was determined that she was going to go to Tibet and minister there. After much discussion back and forth, Ruth began to see that Billy was not feeling called to Tibet but rather was called to ministering at home rather than abroad. This was hard for Ruth, and Billy struggle with it as well. However, Billy never tried to push Ruth to hard. He gave her the space that she needed to pray and think through their future. Billy had one said Ruth, "Follow me and I will follow Christ." She understood, but even when he proposed marriage she was not able to say yes. It was not until the summer of 1941, when Billy was preaching back in Florida at Dean Minder's church, that Billy received a letter from Ruth. The post marking read July 6th 1941. Billy tore open the letter to find that Ruth had written, "I will marry you…" and her letter continued to explain how the Lord had made it clear that they were to be married. After getting paid the $143 for speaking in Florida, Billy rushed out to by the engagement ring using almost all of his honorarium.
Ruth was then called home that 1942 school year to care for her sick sister. They dated long distance but eventually Ruth returned to Chicago during their engagement. All the travel and business in Billy's schedule began to give Ruth a picture of what the couple would face in the life ahead. They thought that the traveling might have slowed down when Billy was asked to pastor in West Springs, Illinois. This opportunity was larger than the prior one at the Tab and Billy thought that it might be a good stepping stone into the chaplaincy that he still hoped to serve in some day. It was in the beginning of 1943 that Billy accepted this position at the church. The congregation understood that he still would travel at times and possibly join the Army as a chaplain someday. They paid him $45 a week and found that this young preacher from the south was well worth his wages. The couple then graduated in June from Wheaton, they then were married in August 13th, 1943 at a Presbyterian conference in Montreat, North Carolina, the U.S. home for Ruth's parents.
Great Impact and the Beginning of Many Goodbyes
The now 25 year old Graham had filled the role of a pastor to the fullest. He would spend time making house visits to members and strangers encouraging them to attend the church. He changed the name of the church from Village Baptist church to Western Springs church in an effort to have people other than just Baptists attend his services. It was also during this time that another Chicago pastor, and the future president of Youth for Christ, called Billy and asked him to take over one of his Sunday radio shows. Billy was excited about the opportunity but told Torrey Johnson that he needed to ask the deacons. Both the church leaders and Ruth felt that the radio program was not right due to the lack of resources and Billy's time. However, eventually through much prayer and sharing of the needs, the door for the radio program soon became a reality.
By this time is seemed to be evident in all that Graham did that he would seek to find a way to be as innovative and relevant as possible. When it came to the program for the radio, Graham knew that they needed to have more than just his preaching. One afternoon Graham marched right down to the office of a popular bass-baritone singer, George Beverly Shea, and told him that the show needed his help and explained his vision of mixing his music with the preaching. Shea agreed to consider the opportunity, and after a while Graham heard back from him as he gladly accepted the invitation to get involved.
This broadcasting of the programs from Reverend Graham's Church soon filled the small basement sanctuary on Sunday evening. It only took a little bit of time before WMBI radio in Chicago asked to broadcast Graham's Sunday morning services as well. The overwhelming growth of the church and the letters that were received from listeners from all over the Midwest made Ruth and Billy assume that they were going to stay put for awhile. It was also during May of 1944 that Billy was asked to speak at the first ever Youth for Christ Rally in downtown Chicago. This was only the beginning of many invitations to travel and speak for youth rallies around the nation. Near the end of that year, having fulfilled the requirements for Chaplaincy Billy was commissioned to the Army and was instructed to wait for orders to enter into chaplain courses at Harvard Divinity School. Complications arose, for it was at this time that Billy grew deathly ill with the mumps and Ruth feared for his life. Due to his six week illness Billy could not attend the chaplain training and was discharged. It was then that he also resigned from his position as pastor of Western Springs Church. Because of his involvement with Torrey Johnson and the beginning vision of Youth for Christ, Graham was asked by Torrey to be the first full time evangelist for YFC. He accepted this position for $75 a week and his traveling herein increased greatly.  3
The first Youth for Christ office was in a small building off of Wells St. in downtown Chicago. Billy started in his knew found position in January of 1945. The only other employee was Mr. Johnson's long time assistant. Mr. Johnson continued in his leadership role at the church and served half time trying to get the vision for YFC off the ground. Billy's responsibilities were to travel and help start different chapters of the ministry around the United States. Billy would do anything possible to serve a community as they tried to reach their lost youth. All this called for a lot of travel and Billy was not able to be with Ruth very much.
Ruth and Billy felt that it would be better if they moved back to North Carolina so that Ruth had someone to be with when Billy was gone. It was at this time that the couple became pregnant with their first child. This made the need ever great for Ruth to live close to Family. For a temporary time the couple decided to move in with the Bell's, Ruth's father and mother. Ruth was able to travel with Billy for a while until her pregnancy would not allow her to any more. It was there, in Montreat, NC the two were able to share life when Billy was home, and when he left he knew that she was in the good hands of her parents. In that first year alone Mr. Graham traveled over 200,000 miles. This began a frequent life of travel and leaving Ruth. He spoke in 47 states to rallies in the upwards of 20,000 young people. In this time he saw more than 7,000 people make a decision for Christ. The press reported that this new movement was in over 300 cities. 4
The Ministry was Full Steam Ahead!
The most frequent way that Billy would travel in those early Youth for Christ days was by Greyhound bus or the train. He preferred the train the most because they would give half price fares to the clergy and then he could have a bed and his own private place to study and read. The ministry soon had grown so much that invitations flooded in for Billy to come and speak in Canada as well, and help the communities set up a ministry to the teenagers there. Torrey Johnson and three other men, including Billy, went to Great Britain in 1946 to share the gospel and start Youth for Christ internationally. Their time there was not very long, but very effective. After returning home for a YFC board meeting and some U.S. travel, it was not long before Billy organized a team to return to the wore-torn country and hold many more rallies.
Billy had asked Ruth to go with Him for his continued ministry to Great Britain and leave their new little baby Gigi behind with the extended family. She agreed, as did Cliff and Billie Barrows, and the two couples went off not sure as to when they would return. The rallies were scheduled as many as three and four times a day, and the audiences were always large. After two months the two couples took a vacation to France for a time to be replenished from all of the hard ministry. After vacationing they began their ministry in Ireland with over two months of events scheduled in advance. At this point Ruth wanted to return to her child, and she had to leave Billy, who was sick at the time, to return to their first born. Upon returning, Gigi did not recognize her mother and it was at that sad moment that Ruth decided that she always needed to stay home with the children while Billy traveled. 5
Billy was concerned about the finances while Ruth was concerned about how hard her husband was pushing himself. But God continually provided for the couple and Billy pressed on to share the gospel in any way possible. All of the growing ministry to youth gave Billy the passion to put in writing his message. In 1947 he wrote the book, Calling Youth to Christ. In the forward of this book by Gavin Hamilton, he writes, "[Graham] has been the instrument used by the Holy Spirit of God to influence directly and indirectly the lives of millions of young people."6 Little did Billy know that this would be his first of over 21 books, and his ministry had just begun.
Many Christian leaders became aware of what this young 30 year old evangelist was doing and the way that souls were responding to his preaching of the gospel. Then in late 1948 Billy was invited by a group of business men in Los Angeles to come to their city and hold an evangelistic campaign. Although Billy was excited about the opportunity, he felt that there were a few more arrangements that needed to be made before they could move ahead. It was here that Billy began to build his methodology of how he would work with a city to begin the campaigns. He asked them to first get more of a wide base of churches and denomination involved in the preparation work for the campaign. He also asked for them to increase their budget from seven thousand dollars to twenty- five thousand dollars so that it would allow for greater advertising. He and Cliff had also seen through their other campaigns that the attendance grows every night and he told them that they needed to have a larger tent then they were planning. The men agreed to get more churches involved and to get a bigger tent, but they were skeptical of the money request. Many of the older men thought that Billy was cocky and very demanding for a new, not very well known evangelist.
It was also here in the Los Angeles preparation that a fundamental element was started by Billy and Cliff, and now their new traveling partner George Beverly Shea; they concluded that the entire even was to be run by the local church. The men wanted the city to own the event in hopes that they would give more to it and invite more of their lost friends to attend. This principle was revolutionary for evangelists of the time. Usually an evangelistic campaign was brought in by few churches or even by a coming together of business men like those who initially invited Billy. It was this revolutionary teaming with the church that soon became one of the greatest fundamentals of all Graham's ministry. Throughout Graham's ministry the church has been able to feel that they had a part in the ministry and that their territory was not infringed on by some traveling evangelistic circus.
With all these principles taking root in Los Angeles, the campaign was soon underway. It was scheduled for a three week duration beginning in the last week of September in 1949. At first it was hard to get people to come. The tent was never filled to capacity in those beginning weeks, and the audience was mostly Christian. Ruth had written home to her parents that "It was hard to get the unconverted to attend." Even still, they pushed ahead and Graham preached everyday. Some times he would write the message the night before, or the day of, just to keep up with the every night assemblies. It was nearing the last night of the campaign on October 6th, when the campaign committee felt that they were to extend the meeting for a longer time.
Billy, Ruth and their friend and fellow ministers in Cliff, George, Grady and their wives took time to pray and see if the Lord wanted them to continue. Their answer came quickly as they began to see great new opportunities arise for them to share the Gospel. Through a well know radio host at the time coming and getting saved, and other felons giving their lives over to Christ, people began to get intrigued by this transformation that was taking place. With the decision of the continuing meeting it only took days for the press to give more attention to what has happening in that canvas cathedral.
William Randolph Hurst had sent out a message to all of his reporters to "Puff Graham." With these two small words, the media craze had begun. One night when Billy and Ruth arrived at the campaign tent for the meeting, they were met with swarms of media. Billy did not understand how over night their little media coverage had grown so large. One of the reporters explained to Graham that 'he had been kissed by Hurst.' Billy had never met this man, but Hurst was the tool that God used to bring the worlds attention to Graham and his message.
The campaign went on growing every night on the corner of Washington and Hull Street. The tent was overflowing with people night after night. Billy had grown weak during this time and wanted the campaign to end but he knew that was not God's will. He trusted that God would make it clear when they were to stop. They had put two circus tents together and continually re-arranged the seating trying to fit more people. After eight weeks the meetings came to a close on November 20th 1949. Billy had preached over sixty-five sermons before seventy five thousand people. 7 On the train ride home with Grady Wilson and their wives, they found a warm welcome everywhere they went. They had become some kind of Christian celebrity all across America and from this point on the media was after Graham even allowing his sermons to be printed in national magazines like Life and Time.
It was there in Los Angeles that Billy's crusade ministry had been birthed. God had shaped his evangelist and the continual use and refining would continue. There are many more stories to be shared, but now with the understanding of how Graham's foundation was formed, it is important to look at his theology. Clearly a man is not only used greatly because the opportunities were there, he must also be rooted and grounded in deep Biblical truth.
Deep theology rooted in the Word and personally experienced
Since the meetings with Dr. Ham, and Graham's conversion, he has always had a deep desire to know the word of God and understand its truths. Graham daily committed at least six hours to studying the word and forming his theology so that his messages would always reflect the truth of scripture. Through significant personal experiences, and his clear call to evangelism, Graham had an extra interest in matters the Holy Spirit, the Gospel call, the Bibliopoly, and Christology. Although some thought that Graham's messages were one an inch deep at times, his theology was always well rounded and deeply rooted.
Billy Graham wrote a book entitled The Holy Spirit (1976) which answered some basic questions about the role of the Holy Spirit in a person's life once they have put their faith in Christ. Graham believes that the two great gifts given to God's born-again children are (1) the gift of forgiveness that brings us into a proper relationship with God, and (2) the gift of the Holy Spirit.  8 The first major point that Graham makes in his book is that the Holy Spirit is a person; he must never be seen as a mere force of good. He also believes that the Holy Spirit is of a divine nature and a part of the trinity. Graham said, "There is nothing that God is that the Holy Spirit is not. He is very God of very God." 9 Graham believes that the church has its inception and lives a life of unity by the presences and power of the mighty Holy Spirit. The church is more than a group of people, but a body that is made united and living by the Holy Spirit. Also, Graham believes that the Holy Spirit gives gifts to the church. In relation to individuals, Graham understands that the Holy Spirit enlightens believers through the Word of God, and more over, the Spirit actually dwells in the believer to accomplish certain things. In reference to evangelism, Graham believes that the Holy Spirit is the one who speaks into the hearts calling men to a relationship with God. He has said that "without the wooing of the Holy Spirit, you can't come to Christ." He truly believes that apart from the Spirit's ministry no one would ever become conscious of his or her own lostness, let alone the truth of Jesus and the power to recreate them. When sharing the gospel Graham believes that God is the one that calls and draws a person to himself.  10
In reference to the calling of God unto salvation, Mr. Graham believes that God reveals Himself in various ways; God reveals Himself through nature, and through conscience. Moreover, Billy Graham primarily believes that God revealed himself through His son Jesus Christ. 11 He has stayed true to the Scripture when sharing the Gospel as he understood that the only way that we can know God is through Jesus Christ of whom we are told about in the Bible. In sharing the Gospel, Mr. Graham stated, "I have stuck to what is called the kerygma, which is the death, the burial, and the resurrection of Jesus Christ and the fact that people need to repent and come to Christ by faith." Graham believes that Christ was God incarnate stating that "At the heart of the good news is Jesus Christ. He is God in human flesh." Mr. Graham makes sure that every time he shares the Gospel he shares (1) the facts of the gospel (The incarnation, the cross, the resurrection, the coming again etc.), (2) the need for faith and repentance on the part of the person, (3)and the promise of God for salvation, forgiveness and eternal life. 12 I have personally observed that Graham is also always intentional about including the fact of the real eternal hell and the judgment of God on all men. 13
Billy Graham has published numerous amounts of tracts, articles, booklets and books that call people to a relationship with God through Jesus Christ. For over 54 years Mr. Graham has dedicated his life to calling people to Christ and has based all this on the Word of God and the work of Jesus Christ. He has shown other what it means to share the full Gospel as he has been committed to this himself. He understands the Gospel, he declares it to the masses, and people are saved.
Obviously, as an evangelist, His beliefs about Christ are most important. Graham has always been quite emphatic about his beliefs of who Christ is based on the Bible. He has been very vocal in his preaching about Christ being born of the Virgin Mary. He also talks of Christ being all God and all man. Graham speaks of Christ's divine acts which attest to His deity, but also tells of how he had to be man so that He could identify with us and die for us on the cross. Graham believes that Jesus Christ is the only way that a person will be able to have a personal relationship with God. He explains that Christ's death on the cross was the propitiation and atonement for all humanity. He also believes that Christ is the resurrected Lord. Graham also often makes clear that Christ will come again as we are promised in scripture. 14
Mr. Graham helped others to understand the doctrines of Christology in his book The Secret of Happiness. Graham has made significant contributions in several aspects of the Christ-centered ministry: (1) he has encouraged others to have the same biblically historical theology, (2) he has enthroned Christ as Lord in His own life and ministry, (3) Christ is at the center of all the BGEA does, and (4) this has in turn greatly encouraged and impact all that the BGEA has collectively ministered.
In addition to all of this, through out Billy Graham's entire ministry The Bible has been his foundation. One of the statements that he says most often is, "The Bible says!" It was just prior to the 1949 campaign in LA that Billy prayerfully committed himself to the scriptures, promising to always stay true to the Word of God. Graham believes in the total authority of scripture. He believes that the Bible is the inspired word of God. 15 Graham has committed himself to good hermeneutics and strives to use good interpretation principle. 16 Graham believes that the Holy Spirit brings understanding and relevance of the scriptures to the believer's heart. In evangelism, Graham understands that the Bible is the tool that the Holy Spirit uses to call and transform lives.
In the end we can conclude that Billy Graham truly lived a transformed life himself. He was merely an ordinary farm boy that God chose to use in great ways. His story should be an example for all Christians to live only to please God, and to go forward to share the Gospel with everyone!
SaveSave
SaveSave
SaveSave
SaveSave
SaveSave
SaveSave
SaveSave
SaveSave
SaveSave